Dream BIG Paint BIG – live online experience
Dream BIG Paint BIG is a 2-month live online experience.
It's for you if you want to shout "HELL YES!!!!" as you pull on your BIG girl pants and step into your intuitive painting BIGNESS!
For 2 whole months, we are going to Dream BIG Paint BIG and go for it BIG time as a group of Creative Adventurers who are ready to BRING IT to the world!
The BIGGEST Canvas of your life
As you paint on THE BIGGEST canvas of your life, you will learn how to paint your soul's art as you are coached on how to expand in your creative life. You will be bringing to life your BIG dreams, intuitively painting your own BIG soul painting – and uncovering your deepest desires to achieve a BIG breakthrough!
You will take time to listen to that inner whisper inside calling you to BE BOLDER and to take the BIG energy from your canvas into your life. To use your creativity to create your BIG life. For so long I have wanted to offer this experience online to connect you with your own BIGNESS. To show you how to connect, create and paint the BIG Happiness which is calling you.
Watch this first!
Kate Nankevill on her experience of Dream BIG Paint BIG
The Dream BIG Paint BIG experience is for you if
You're tired of feeling uninspired
You have a deep desire to connect with your soul in a BIG way
You're curious about integrating creativity into your life
You feel like you keep walking uphill and just want your life to FLOW
You want to get messy and wildly creative! You're excited and scared at the same time by the idea of creating the BIGGEST CANVAS OF YOUR LIFE
You've forgotten somewhere how to have fun just for the joy of it, and your inner child just wants to come out and play BIG TIME
You know that you have HAPPINESS in your SOUL ready to be released into the world in a BIG BIG WAY
You're craving connection with other magical souls who are doing BIG things in the world
You want to expand your inner world in a BIG BIG BIG way!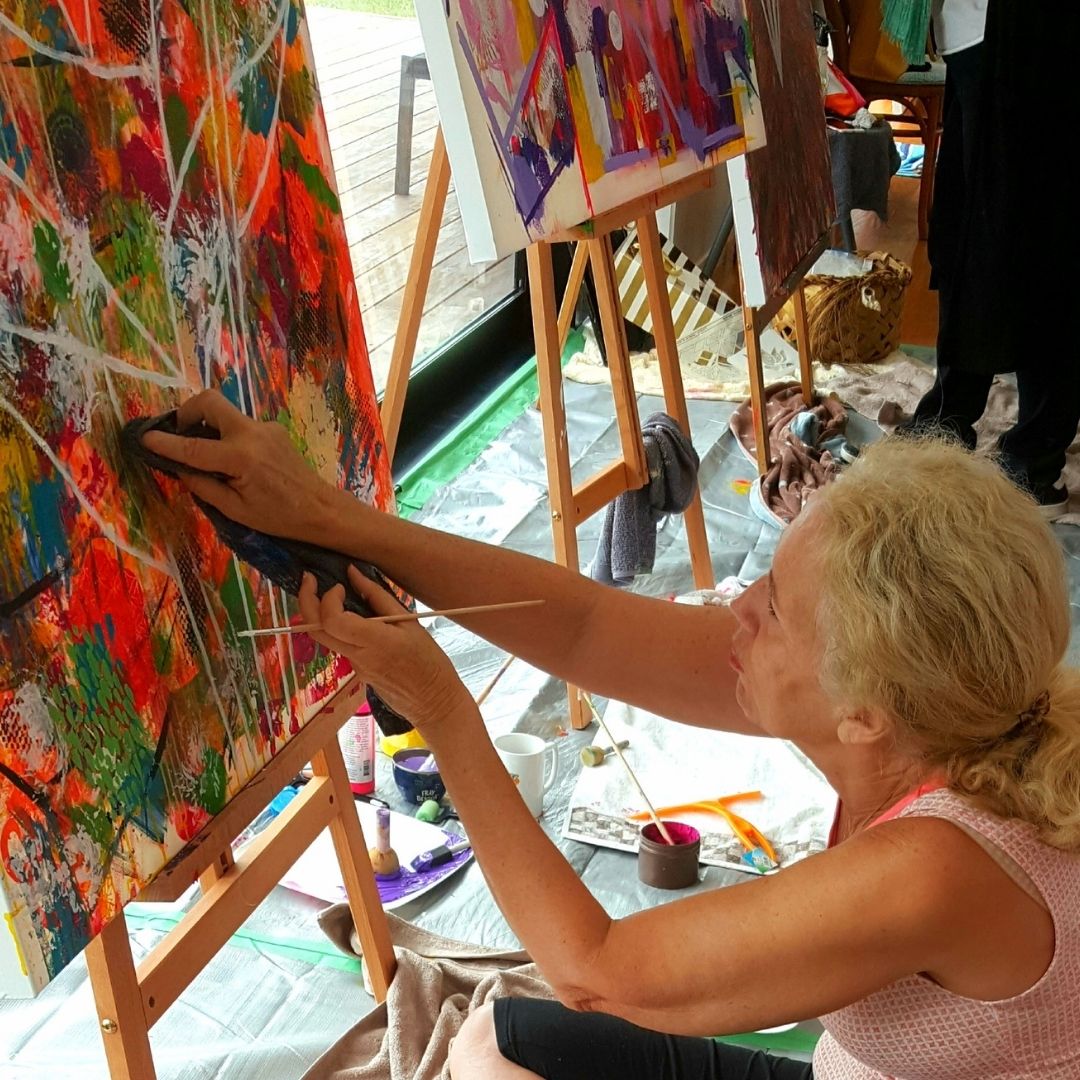 Dream BIG Paint BIG September 2022
10th Sept 3pm PST /6pm EST    11th Sept 10am NZT / 8am SYD
17th Sept 3pm PST /6pm EST    18th Sept 10am NZT / 8am SYD
23rd Sept 3pm PST /6pm EST    24th Sept 11am NZT / 9am SYD
1st   Oct 3pm PST /6pm EST     2nd   Oct 11am NZT / 9am SYD
8th   Oct 3pm PST /6pm EST    9th   Oct 11am NZT / 9am SYD
15th Oct 3pm PST /6pm EST    16th Oct 11am NZT / 9am SYD
22nd Oct 3pm PST /6pm EST    23rd Oct 11am NZT / 9am SYD
28th Oct 3pm PST /6pm EST    29th Oct 11am NZT / 9am SYD
* This call time will change on week #3 – #8 and become 11am NZ / 9am Sydney (due to daylight savings)
Imagine spending 2 whole months of intuitive artful play, and experiencing BIG expansion in your world. I am proof that the more creative you allow yourself to be, the more you see possibility in every situation you may have felt too difficult to deal with, or too hard to push through.
In these 2 months, you too will release your 'shoulds' and embrace the BIG BOLD YOU that is crying "Hell yes!!!" inside.
Dream BIG Paint BIG includes:
8 weekly 2-hour live zoom painting sessions of BIG Creating, BIG Happiness, BIG Painting and Playing BIG time!

A private 1-to-1 session with me – including your own personal symbol to support your creative journey

A private Facebook group where you can share your journey and connect with me

My full support in creating your BIG Vision on the canvas and in life

Plus a side of Sunshine and Happiness and Sisterhood
Enroll in Course
USD $609 – one off payment
2 month live online painting experience with Angela Murray
4 Payments x USD $168/month
2 month live online painting experience with Angela Murray
By the time you have completed the 8 weeks you will know that you are truly an intuitive artist. You will never ever be stuck looking at a blank canvas stressing over where to start. Perfectionism will be on a long vacation. Letting go of the outcome and following creative nudges will be as natural to you as breathing, eating or sleeping. Welcome home to your beautiful creative self.
Week #1
This week we get in touch with our canvasses. We will learn how playing with everyday tools can make the most surprising and magical marks on your canvas. By the end of week 1 you will have moved past the fear of the white canvas, and you will never ever be stuck on how to start a painting ever again.
Week #2
In week 2 we touch lightly on the basics of colour mixing, contrast and values. Though this course is not about learning 'how to paint' everyone needs a little help or refresh on the basics to create without stress. This week we begin to learn about painting with energy so we will be painting some good juju!
Week #3
In week 3 we will be exploring what images or symbols inspire you, or if you are an abstract artist it may just be certain colours or a marks. The image you may create in this lesson will likely not make it to the final piece. (Did I mention we paint LOTS of layers?)
Week #4
This week we learn a simple technique to tap into our intuitive artist self, which will not only inform your painting but may be a message for you in life too. With the right nurturing your painting can become a true reflection of the art from your soul full of your dreams and intentions.
Week #5
In week 5 we take stock of what we have already learned, and begin to commit to trying on some ideas. This week is very much about finding out your own unique style and the message which is coming through you onto the canvas.
Week #6
Week 6 is all about beginning to learn about what tricks make your painting pop. If you've ever painted something and you just can't work out why it doesn't feel right week 6 and 7 will definitely help you work that out.
Week #7
In week 7 we carry on with the tricks for your painting toolbox, and we spend the majority of the session playing. This week I will spend a lot of time working with each student in more depth.
Week #8
This is always a bitter sweet week. It the last session we all have together, and it feels like a celebration – it's a chance to finish off (or maybe not) and to reflect on the aha moments and what we have all learned. You would not believe how many people come back and back to be in that wonderful, accepting, non-competitive, non judgemental, creative energy and to hang out with me one more time. It's the family you choose for yourself.
Frequently Asked Questions
When does the course start and finish?
Starts 10th September 2022 (Northern Hemisphere 3pm PST/6pm EST) 11th September 2022 10am (New Zealand) 8am Sydney
How long do I have access to the course?
How does lifetime access sound? After enrolling, you have unlimited access to the online content for as long as you like – across any and all devices you own. Access to the live coaching sessions will be for these 8 sessions only, all of the sessions are recorded and you will have access to the recordings during and after the 8 weeks.
How much does the course cost?
The Dream BIG Paint BIG Experience is just USD $609 whether you pay in full or opt for the 4-month payment plan.
When are the live group calls and how do I access them?
There are 8 x 2 hour live group calls over the 8 weeks First call – 10th September 2022 (Northern Hemisphere 3pm PST/6pm EST) 11th September 2022 10am (New Zealand) 8am Sydney, then weekly after that. All calls will be via Zoom and the link will be supplied. I try to keep the call times consistent, however
some call times change for daylight savings.
Please check
the full list of call dates/times
.
What happens if I miss any of the group calls?
The best way to experience this course is to attend the calls live. However I understand that life can get in the way, so all calls will be recorded and the link will be emailed and posted in our private FB group.
Do I get any 1-1 support from Angela?
Yes! you will receive a personal 1:1 session with Angela, where you will receive your own unique symbol to to guide you on your Dream BIG Paint BIG Experience. In addition, there are 8 live group calls with Angela, and she will be present in the FB group and will answer any questions you post on Teachable under the lessons. It is possible to book additional 1:1 sessions with Angela at an extra charge – please email: angela@angela-murray.com for more information.
Will I receive a materials list for the course?
What my clients are saying
Gail Ose on her experience of Dream BIG Paint BIG

I have been wanting to paint more people and also something magical as well as ocean. This is more than I could have hoped for. I was also wanting to paint something big to enter in next year's art exhibit that would turn heads. I am pretty sure this fits the bill! To top it off the card you pulled for me is in alignment with what the cards I have been turning up have been telling me! Thank you ever so much Angela for this offering! This is better than anything I imagined would ever come from taking this course and I am loving everyone else's paintings also. They are all so bigger than life and magical!

Gail Ose – Owner 509 Gallery & Gail Ose Studio
Kate Fitness on her experience of Dream BIG Paint BIG

I wanted a chance to experiment and learn more techniques – I was worried about what would actually appear on the canvas.

It feels like I have been given permission to do what I like with the canvas and also feel that being totally absorbed in being creative has opened up and kicked out some very dark patches in my head. My dreams are much less dark.

I would say even if you think you might enjoy it, a tiny bit, give it a go. I would tell you not to fret about the result and just get caught up in the process.

The course has given me heaps more confidence to experiment and try new things creatively. The process has been hugely enjoyable and really rich. The feel-good factor is huge at the end of each session. Thank you so much.

Kate Fitness BSc, R C Hom
Mandy Beverley on her experience of Dream BIG Paint BIG

It's so hard to describe the course but I would totally recommend it to anyone! It's a journey of your own creativity and getting out of your own way. It builds confidence. It's something that I am really glad I gave myself.

The first week when we no longer had a blank canvas and just got started – I loved that! It got me hooked straight away, and then to build a layer on top straight away was great. I loved watching each of us struggle at times with what we were completing – some liking it and some not and how different stages bought out more things to look at internally as the process unfolded.

I also love Angela's coaching style and exercises. It was nice and relaxed and we are all rearing to get on with the painting. Angela's introductions at the beginning helped to ground us and get us ready to start painting.

Mandy Beverly – Director and Facilitator
Cyndi Loring Smith on her Dream BIG Paint BIG experience

Angela Murray's Dream Big Paint Big Online was an amazing experience! She taught us to take time each day to grow and stretch our creative side.

Being able to work on our paintings between classes was fun and healing. This class opened a whole new window.

Angela is a wonderful open spirit who gently guides you through the creation process. She always makes herself available for questions. I highly recommend her class. It has encouraged me to paint, and then paint some more!

Cyndi Loring Smith
Learn more about my teaching philosophy – read my blogs here